One complaint I had about the first season of Harley Quinn is that "some episode endings seemed a little rushed so that they could save pieces of an arc for the rest of the season." With the show established that's no longer an issue, and it's able to go into the second season expanding on what it does best. Story arcs are written tighter, many characters from the year before are given additional depth, some new ones are given fantastic introductions, and the jokes just keep coming. Unfortunately, some characters feel sidelined at best, and at worst others are just painfully underwritten. The action and animation is still largely the same and feels like it's on the lower-end, but that's not a real problem. It's a mixed bag, if you dig through it too much, but odds are you're going to really like what you see.
This season is cleanly divided into a couple neat stories. There's Harley (Kayley Cuoco) taking control of a divided Gotham, one villain-controlled territory at a time, and then there's the fallout from the volatile shifts in power. The first part is pretty clear roadmap to get people back into the swing of things, as each villain takedown gets an episode. Personally, I really needed this since binging shows can leave the details of the previous season a little fuzzy. A season recap, even as a bonus extra on the show page, would've been even better, but we're all just counting our blessings this year.
Harley's Progress (Season 2 Promo Image) | Copyright 2020 Warner Media
Old characters are fleshed out, new ones get proper intros, and the show is able to experiment even more with just about everyone. It's not everyday that Nora Fries (Rachel Dratch) is given the opportunity to have character outside of her husband (Alfred Molina), let alone...move or talk. In fact, the "additional story," in Arkham Knight may be the only other example. Other great examples include Christopher Meloni's Jim Gordon. As much as I loved him last season "flipping the Bat Signal on-and-off [for emotional support]," seeing him actually get some of that support through his daughter (Brianna Cuoco, Kayley's sister) was even better. He even cleans himself up, albeit too quickly, "in a montage where we skip past the hard parts of beating an alcohol addiction." Taking a little more time with Jim's journey would've been great, but still, it honestly was unexpected either way, since characters outside of the main ensemble are not treated seriously all that much in the first place. It may be growth from the creators, and it holds a lot of promise of things to come. I still believe this particular Gordon and Batman (Diedrich Bader) should have more time to shine, but Harley Quinn isn't the place for it. Some characters have a long way to go, in this regard. This version of Two Face (Andy Daly) is a serious letdown, thanks to shallow characterization in a mostly filler episode.
This is my main black mark on the season. "All the Best Inmates Have Daddy Issues" is midway through the season, and it's about Harley's time in Arkham as a psychiatrist, and it does something I had a problem with in
Solo: A Star Wars Story
. "Some of these references unnecessarily setup the original trilogy, or foreshadow it in a way that's more like fortune-telling." And with characters many know very well already from other media, it just doesn't feel like it's doing anything really new with them. All these interpretations may have just backed the writers into a corner, and that's understandable, but in that case a less-is-more approach would've done the trick. Joker, who is very well-crafted by Alan Tudyk, asks "You wanna know how I got these emotional scars?" It'll make people either chuckle or groan, but at least it's just one line. This unscarred Harvey Dent constantly refers to the citizens of Gotham as voters, and it gets old quick. Making him one dimensional is one thing, but at least give him some kind of creativity to go along with it. It's like that acid also kicked the vocabulary section of his brain into action, too. On the bright side, Poison Ivy (Lake Bell) revealing why she thinks so little of humanity does a lot for her as a character and propels her, Harley, and the show to a fantastic rest of the season.
The action and animation could still use a touchup, and that might've actually happened in the last couple episodes. Starting out though, there's just stupid little errors I noticed, like someone drinking something, but then the same amount is in the glass in the next shot. Toward the end though, there are some fun arena-type fights. The GCPD taking on Darkseid's (Michael Ironside) parademons, for this show, is a matchup made in heaven. The highlight, however, has to be Batman getting his own version of Tony Stark's Extremis armor, complete with his own J.A.R.V.I. S-like companion. First, it gives Alfred (Tom Hollander...so, so close) a much-needed break from Bruce's shenanigans. Second, it leads to a fight with Bane (James Adomian) and some thugs that includes flight and lightning punches, and those are always great things. Still, even if that flash was throughout the season, it wouldn't compete with the show's humor.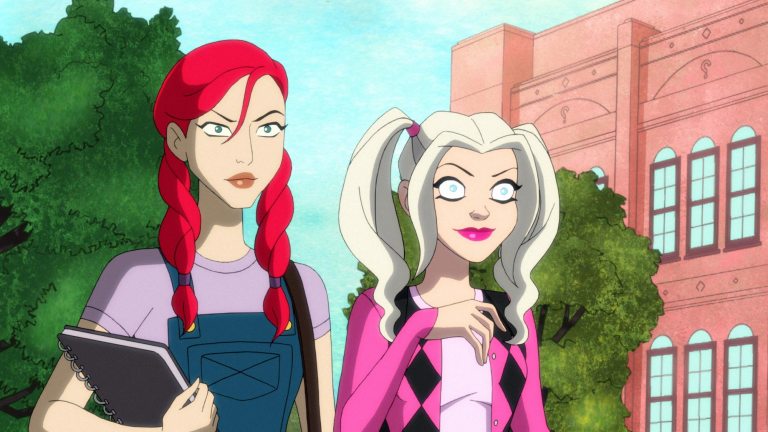 Remember, they both had to put a ton of makeup on to achieve this look. It's a great detail | Copyright 2020 Warner Media
For last season, I said "t
he jokes had a certain
South Park
quality to them, and that's not just due to the MA rating of the series. It's in the little things, too." That actually might just be strong sitcom humor in general, since I ran across Josh Weinstein's study of Simpsons jokes, recently. Whatever the case, for me, that off-the-cuff clean humor feels like Harley's secret weapon. Stuff like Bane going for one of the open cushy office chairs, now that other villains are incapacitated, and then being shut down for "honorary purposes" and forced to sit on a crappy folding chair. Last time, I said it was just a good way to break up the more mature material. This time, with that joke sowing the seeds of Bane's rivalry with other villains, I'm calling it character-building. This quickly found its identity. With it knowing exactly what it is, and a confirmation of a third season, it feels like it can run straight ahead into what's next. There's just some tiny bumps along the way to smooth out.
So, there's a lot that's not being covered in this review for plot reasons. Look forward to the shakeups that'll be explored further in the future. Instead of that, and because the basic circumstances leading to this review. There's just a couple little things to add as a wrap-up. This character, and her associates, was one of the major pieces of fiction I kept coming back to during this horrible fucking year. There's three other posts here (1, also linked above) (2) (3), plus a little something just two paragraphs down. Maybe it's because of the (almost) guaranteed humor, because Birds of Prey might've been the last thing I saw in an (indoor) theatre, or because that movie helped me grow as a hobbyist video editor? It could be a combo of these things, but whatever the case, she and her cronies helped a lot. Knowing that this review is how I may have wanted to cap off 2020 was something to hold onto through quarantine and recovering from fucking heart surgery (valve replacement in March).
Similar to last time, HBO Max may still be doing some kind of free trial or starting discount to help promote
Wonder Woman 1984
. So if you can watch the season, and Zendaya's show
Euphoria
because I just want to throw that out there, without a major financial commitment, definitely go for it.
Finally, there's one last thing. Doing a full write up on it is a little tough because I have trouble smoothly jumping back and forth between all these interpretations of the characters sometimes, and reconciling them with each other, but if you love the character in general, please check out the graphic novel Harleen b
y Stjepan
Sejic. This is a version of Dr. Quinzel, emphasis on doctor, and the clown you've probably never seen before, and the slow burn approach to Harley's transformation builds upon the wonderful introduction from character creators Bruce Timm and Paul Dini. Hearing Harley in your head without the resonance of Cuoco, Strong, Sorkin, or Robbie may not sound "right," but I promise you the voice Sejic gives her is a long time in coming, and it doesn't take away from those wonderful portrayals in the slightest.
And give Sejic's other work a shot too, but just keep in mind it's usually made with a mature audience in mind, and discretion is advised.